The easy way to receive deliveries

Keeps deliveries safe

Only you, your local courier and the people you delegate access to can access your smart mailbox.



Accepts signature deliveries

The only smart mailbox on the market that accepts signature deliveries.

Keeps you in the loop

Receva will always keep you informed. Receive text messages when items are delivered.

Accepts more deliveries

The Receva smart mailbox is designed to accept deliveries from any carrier.



4 easy steps to deliver-glee



1. Install your Receva mailbox at your property

Either replace your mailbox or install the Receva smart mailbox in an accessible area.



2. Download and register with the Receva app

Download our Android or iOS app on your smartphone and register your details.

3. Shop online as you normally would

When shopping online, simply use your address as normal at the checkout.  

4. Be notified whenever a delivery arrives

Whenever a delivery is made, we'll let you know who has delivered it and when.


Accepts signature deliveries
Designed to accept deliveries from any carrier
Connected via 3G so it doesn't rely on your Wifi
Keeps your deliveries safe
Large enough to fit two cartons of wine
Receive notifications when you receive a delivery
Delegate access to a trusted friend or family member
Take it with you if you move
One year battery life powered by Alkaline batteries
Control your Receva smart mailbox from anywhere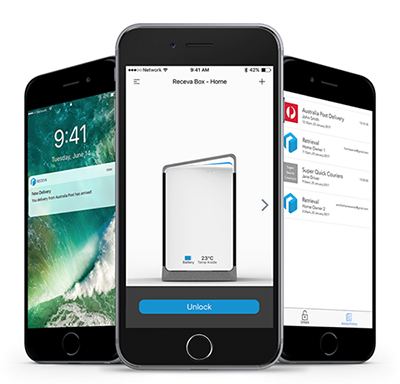 Our iOS & Android app can:
✓ Open your mailbox
✓ Notify you when a parcel has been delivered
✓ Delegate access to a trusted friend or family member
✓ Monitor the temperature inside the mailbox
✓ Monitor the battery and alert you if it's running low